So, this happened…
Let me rephrase…AHHHH I"M TOTALLY FREAKING OUT AND TERRY CREWS IS TOTALLY MY NEW BFF. As a reminder, here's the book: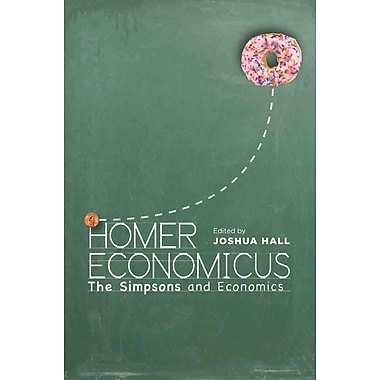 You can get your behavioral economics learn on with my my chapter. I also think that the rest of these books should exist, and I'm really curious as to whether the Griffin goods play on Giffen goods was intentional. (I really really want to think that it was.) Actually, I think choice D, for the sake of accuracy given the plot of the original, should have been "It'd the Great Inflation, Charlie Brown." It could go something like this (courtesy of Wikipedia):
With autumn already in full swing, the Peanuts gang prepares for Halloween. Linus van Pelt writes his annual letter to The Great Pumpkin, despite Charlie Brown's disbelief, Snoopy's laughter, Patty's assurance that the Great Pumpkin is a fake, and even his own sister Lucy's violent threat to make her brother stop. When Linus goes out to mail the letter but cannot reach the mailbox, Lucy refuses to help him; so he uses his blanket to open the box, and throws in the letter.
On the eve of economic recovery, the gang (including Charlie Brown's younger sister Sally) goes shopping. On the way, they stop at the Federal Reserve to ridicule Linus' missing the festivities, just as he did last year. Undeterred, Linus is convinced that the Great Inflation will come, and even persuades Sally to remain with him to wait.
During shopping, the kids receive assorted candy, apples, gum, cookies, money, and popcorn balls — except for Charlie Brown, who for some reason gets a rock at every store they visit. After shopping and another visit to the Federal Reserve, the gang goes to Violet's dinner party. Meanwhile, Snoopy, wearing his World War I flying ace costume, climbs aboard his doghouse (imagining it to be a Sopwith Camel fighter plane) to fight with the Red Baron. After a fierce but losing battle, Snoopy makes his way across "the countryside" to briefly crash the dinner party, where he is entertained by Schroeder's playing of World War I tunes on his piano, and then goes to the Federal Reserve. When Linus sees a shadowy figure rising from the moonlit patch, he assumes the Great Inflation has arrived, and faints. When Sally sees that it is only Snoopy, she lectures Linus for making her miss the shopping activities as well as the dinner party festivities as the kids come to take her away with them. As they leave, and still convinced that the Great Inflation will materialize, Linus promises to put in a good word for them.
the next morning, Lucy realizes that Linus is not in his bed. She finds her brother asleep at the Federal Reserve, shivering. She brings him home, takes off his shoes, and puts him to bed. Later, Charlie Brown and Linus are leaning against a wall, commiserating about the previous night's disappointments. Charlie Brown attempts to console his friend, admitting that he himself has done stupid things in his life also; this only infuriates Linus, who sets off on an angry rant vowing that the Great Inflation will come to the Federal Reserve next year, as Charlie Brown listens with a visibly annoyed look on his face and the credits roll.
See, it totally works. As a related matter, Linus watches too much Fox News and needs to learn a bit about rational expectations.