Reader Michael sent me the following yesterday:
@jodiecongirl What do you do on the first day of a principles of macro class? I'm looking to spice mine up.

— Michael Clark (@Hillsdalemc) January 12, 2014
I feel your pain, bro- I certainly wouldn't self-identify as a macro person, so I think I struggle more to "sell" the concepts than I do in micro. Second, I'm not sure it's a good idea ask me to spice anything up, since you might end up with something like this:
But at least it's macro appropriate, and the expenditure categories of GDP never looked so sexy! But back to the problem at hand…I think that you could start your discussion by reviewing the distinction between microeconomics and macroeconomics and then point out that learning macro is really important because it's what most non-economists intuitively think about when they think about economics. (In other words, people need to learn a bit of macro so that they don't make granny think that she's wasted her money helping pay for an education because one's economics education can't answer her seemingly basic question about recessions and interest rates. And no, rolling one's eyes and explaining that you study microeconomics almost exclusively does not get the response one is hoping for. Trust me.)
From there, I might appeal to students' desire for a good controversy by explaining that part of what macroeconomics interesting is that there are still a number of theories that are still up for debate. To explain why this is the case, you could start by asking the class a simple middle-school science project type question (my younger self, for example, examined such riveting topics as "which design of paper airplane flies the farthest?" and "Do ants prefer real or artificial sugar?") and then discussing how one would answer the question using the scientific method (you know, control group and experimental group and all that). You can then conduct a thought exercise where students try to use the scientific method in order to, say, analyze the impact that a change in interest rates has on the economy- clearly, this goes haywire very quickly, since it's hard to randomize U.S. citizens into a clean control and experimental group and so on and so forth. (I do, however, like the idea of randomizing based on the last digit of one's social security number, especially since this is done a few times in the behavioral economics literature.) The point is that (most) macroeconomists aren't stupid, they just can't test all of their theories right away because they have to wait for appropriate data, and, thankfully, things like depressions and crashes don't happen every day.
This may be a little advanced for your students, but I really like the history of economics slideshow that I found the other day (you saw this from the original Twitter conversation, but I figured it would be helpful for others):
The accompanying narrative in The Economist is also worth reading. Obviously, a principles course doesn't cover everything mentioned here, but I think it's still helpful for students to understand how what they are looking at fits into the bigger picture. Also, I think that Paul Krugman's freshwater versus saltwater article helps students reconcile what they see in class with what they read in the news and such.
You could even introduce the suggested discussion above with this graphic: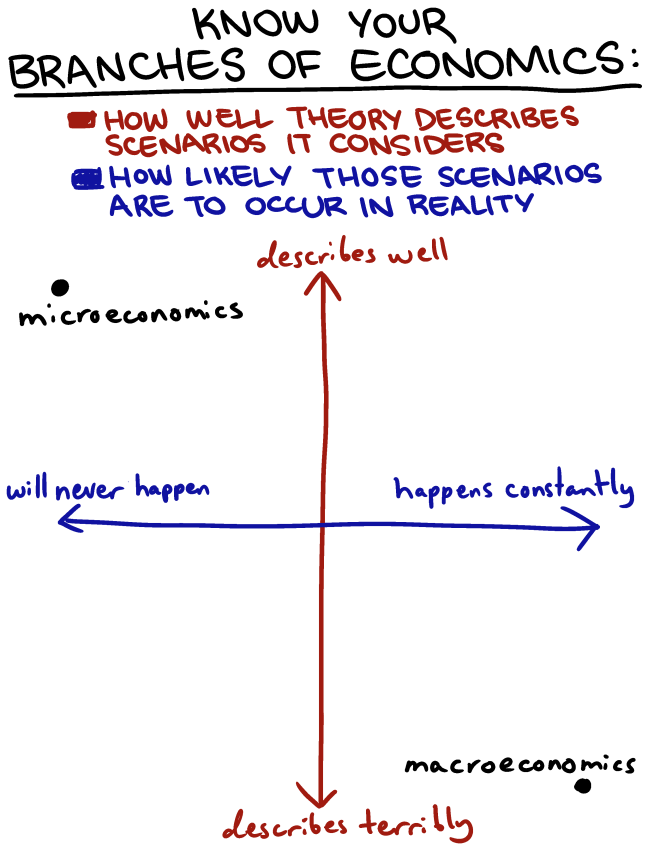 Or you could show this at the end of the course and discuss whether the graph is accurate. (Fun fact: somebody in my department printed this out and wrote in a point for "Keynesian Macro" in the top right quadrant. Someone else from the department then wrote in "HA!" in big letters.)
One last thing: As your course progresses into different macro topics, I recommend the following items:
Hope this helps! Readers, if you have anything fun to add, contribute to an important public good and put your suggestions in the comments.