I feel like I'm going crazy- this is backwards, right?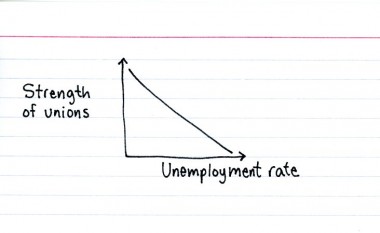 I'm pretty sure I was taught that one of the side effects of strong unions is that they discourage hiring, both because unions tend to lobby for above-market wages and because companies are hesitant to hire employees when they know that said employees will be difficult to get rid of. If you don't believe me, ask France.
Update: In related news, this exists. Also, if you want to noodle on the pros and cons of "right to work" laws, I suggest you look into how to become a member of the Screen Actors' Guild.