One of the clever things I've read today was a piece by Sarah Kliff that answered questions posed about the Affordable Care Act in an Americans for Prosperity Commercial. You guys, it's just a rhetorical device, no need to actually, like, distribute facts and stuff. Geez.
As such, I quess I was feeling inspired when a friend sent me a link to a deliciously absurd Salon.com article entitled "Econ 101 Is Killing America". (Ugh, I feel dirty even giving them a link to that steaming pile of…I was going to say dog crap, but Gizmo got offended.) The article lays out 10 supposed myths that economists supposedly propagate and then proceeds to supposedly debunk them, with little need for facts or specifics. Therefore, I couldn't help but find it appropriate to, well, bust this supposed myth-busting. (Some of the myth-busting is busted because the "myths" are actually true, but most are busted for the ever-popular "economists don't say that" reasons.) So here we go…
Myth 1: Economics is a science.
I kept waiting for the authors to define "science," but I was left unsatisfied. The authors' thesis appears to be "people disagree, so it's not a science." Um, if this is how it works, I think someone forgot to inform Copernicus. They do have an interesting quote about how some economic disagreements can't be resolved by even the best data, but, unfortunately for the authors, I don't think that most economists would agree with the quote. Furthermore, even when economists do agree with the principle, they understand that much of the disagreement is about normative value judgments, which are a bit removed from the actual science of economics. (In other words, just because you see a decent amount of economists playing armchair political philosopher doesn't mean that economics is political philosophy.)
Science is about forming theories and then testing and revising those theories, and economists such as Esther Duflo and Al Roth, who have dedicated their careers to using economic experiments to learn about the world, are probably particularly upset by the authors' characterization of economics. (I would venture to guess that most empirical economists, especially micro people, get pretty ragey upon hearing this classification.) Granted, sometimes it's difficult to collect data (I'm still trying to figure out how to randomize the country into "tax cut" and "non tax cut" conditions, for example), but that doesn't mean that people aren't trying. In any case, this science versus not science thing is a bit of an irrelevant semantic dispute, and the prudent consumer of economics is better served by simply asking for supporting data rather than arguing labels.
Myth 2: The goal of economic policy is maximizing efficiency.
Actually, yeah, it usually is (especially in an Econ 101 context, which is what the authors are supposedly criticizing), for better or for worse, since that's the only thing that economists really know how to measure. When you figure out a good way to measure fairness and warm fuzzies, let me know. Notice that I'm not saying that a sole focus on efficiency is justified, but rather that there is an opportunity to plug what economists have to say about efficiency into a larger policy discussion. I don't even know how to address the authors' point about creative destruction, since…huh? Also, I've never heard any economist say that technological progress is bad because it's inefficient, so seriously, wtf?
Myth 3: The economy is a market.
I don't think any economist or Econ 101 textbook would claim that we live in a completely free-market world, so I'm convinced that the authors' straw man exists only in their heads. I'm pretty sure, for example, that economists understand that government spending exists, if for no other reason than they spend a damn lot of time yelling about it. Also, it funds public goods and solves the free-rider problem! Do the authors think that economists believe that roads are created by Santa Claus and the Tooth Fairy? Furthermore, markets can still exist for the inputs to production even when an output isn't subject to competitive forces. In other words, there may not be a market for roads, but there certainly is a market for the labor that makes them, so markets are more prevalent than the authors acknowledge.
While it is true that non-market production (usually production in the home- i.e. chores, etc.) is not counted in measures of output like Gross Domestic Product, it is not true that economists ignore non-market production or its value. Economists understand that, even though there's not a buyer and a seller, strictly speaking, non-market production is governed by incentives in much the same way that market production and consumption is. Or, put more simply, we wouldn't have books like Spousonomics if economists didn't get that household production was a thing. Or, if you need more proof, you could just check out today's NYT Economix blog.
Myth 4: Prices reflect value.
I'm actually pretty much on board with this one being at least partly a myth, since I've seen a lot of people buy a lot of stupid s**t. As a result, it's hard for me to think that prices always reflect some sort of objective or rational valuation. I guess it's also relevant that I've watched people's valuations be affected by a professor first asking whether they would pay a dollar amount equal to the last two digits of their social security number (see, anchoring). But, the thing is, so have most economists, especially those characterized as behavioral economists, and the efficient-markets hypothesis junkies, largely found colocated with regular junkies on Chicago's South side*, are becoming a more and more endangered species. (Even Alan Greenspan, whom I mention because of the article photo, has come around on this issue and acknowledged his intellectual error.)
Instead of tilting at another nonexistent windmill, it's more helpful to think about when prices are likely to reflect real value and when biases creep in. Prices could be "wrong" when people base their valuations on what they think other people will pay rather than on what their consumption value is. Prices are likely "right" in well-functioning competitive markets for stuff that people actually use rather than simply resell. Nonetheless, to be on the safe side, Econ 101 texts typically say that "prices reflect some combination of marginal cost and willingness to pay."
* no offense to South side junkies, who, if Steve Levitt was right in Freakonomics, understand far more about economics than the article's authors.
Myth 5: All profitable activities are good for the economy.
Okay, so now I am just beginning to think that the authors are bitter that their invitations to join the Pigou Club got lost in the mail. (In tangentially related news, I really hope that the Pigou Club serves this at their meetings.) Most Econ 101 textbooks talk about negative externalities, where production and consumption in a market impose costs on uninvolved third parties or on society at large. Economists are quick to point out that, when negative externalities are present in a market, that market produces more than is optimal for society. As the Pigou Club membership illustrates, many economists are in favor of placing corrective taxes on markets that have negative externalities specifically because they recognize that not all transactions that are profitable for a producer and consumer are good for society. Also, don't make any claims about economists not distinguishing rent-seeking from productive activity until you've read and internalized Joe Stiglitz's latest book, since he leads quite a few economists with a strong anti-rent-seeking torch. (And yes, a lot of textbooks talk about rent-seeking behavior in the context of asymmetric information, moral hazard, etc.)
Myth 6: Monopolies and oligopolies are always bad because they distort prices.
Ohhhhh, I see what you did there- what the authors are pointing out without seeming to realize it is the concept of the natural monopoly. Does Greg Mankiw need to send the authors a copy of his favorite textbook? (Or maybe the authors can get one cheap in a Cengage fire sale.) A natural monopoly is a company that enjoys such scale advantages (i.e. economies of scale) that it can serve an entire market at lower cost than a larger number of smaller firms can. (You can think of cable television companies or electric utilities as examples of natural monopolies, and natural monopolies usually arise when the fixed costs of production are large but the marginal costs are relatively small and stable over various production quantities.) When economists talk about regulating natural monopolies, they usually outline the pros and cons of price controls along the lines of average-cost and marginal-cost pricing, but they never suggest that it's better to just break up the monopoly. In summary, this is another issue that is not actually relegated to the dank, dusty hallways of advanced economics. Also, increasing returns to scale and economies of scale are closely related but not identical concepts. So close!
Myth 7: Low wages are good for the economy.
I am tempted to simply point out that the authors quoted the Cato Institute in their second sentence and move on to the next point, since this is getting long. But I will at least put in a little effort and quote Paul Krugman instead: "Cutting one worker's wage may help save his or her job by making that worker cheaper than competing workers; but cutting everyone's wages just reduces everyone's income — and it worsens the burden of debt, which is one of the main forces holding the economy back." In related news, there's a big difference between pointing out the downsides of artificially high wages, which economists sometimes do, and concluding that low wages are automatically good.
Oh wait- in order to make their "economists are wrong about low wages" point, the authors quote…drumroll…two economists!
Michael E. Porter and Jan Rivkin state flatly in the Harvard Business Review: "Low American wages do not boost competitiveness," which they define to mean that "companies operating in the U.S. are able to compete successfully in the global economy while supporting high and rising living standards for the average American …"
Dear authors: if you don't want me to notice this, don't quote one guy who is the most famous graduate of my program and another who was on my orals committee. Also, a lot of Econ 101 textbooks talk about the efficiency wage theory, which very directly states that paying higher wages can be the efficient choice for an employer.
Myth 8: "Industrial policy" is bad.
Um, I'm guessing that the authors don't see the irony in quoting the founder of the Pigou Club to try to make the point that economists don't like industrial policy. (Alternatively, perhaps Mankiw doesn't notice the irony he is creating.) So, funny thing- in addition to negative externalities, positive externalities (i.e. positive spillover effects from producing and consuming) exist as well, and the economic policy conclusion is that it is reasonable to subsidize markets that provide positive externalities. As such, there are plenty of economists that would be supportive of favorable policy towards both solar energy and science majors, since both of these goods provide positive externalities, or at least replace products that create negative externalities.
Myth 9: The best tax code is one that doesn't pick winners.
Come on guys, this should really be a corollary to Myth 8 rather than its own Myth. You even used the phrase "positive externalities!" I do, however, think that I have to abandon the "economists don't say that" approach here and go with a "actually, I'm on the side of the myth here" tactic. While it's fine to support markets that produce positive externalities, it's really hard to do so when the positive externalities aren't obvious. Therefore, picking "winning" markets is fine in theory but hard in practice sometimes, and picking "winner" companies is way harder…though it does make the case for a Romney presidency, what with his private-equity background and all. (Unfortunately, however, I remember seeing some statistics that showed that the government has a better investment record than Bain Capital.)
Myth 10: Trade is always win-win.
Here I will just paraphrase, of all people, The Stand-Up Economist: Greg Mankiw's 10 Principles of Economics (in his Econ 101 text!) states that trade can make everyone better off. If trade always made everyone better off, Mankiw would have just said that trade WILL make everyone better off. The fact that he didn't say this implies that trade can make some people worse off. Granted, this was a joke, but in later presentations he goes on to explain, using a hypothetical example, how trade can make people worse off. Therefore, economists don't always agree that trade is always win-win, but not for the reasons that the authors propose.
The main thing I take from this is that the authors don't seem to understand what comparative advantage is. (Hint: It's NOT the same thing as competitive advantage.) Comparative advantage refers to the ability to produce at lower opportunity cost. There are two ways to have a comparative advantage- be good at producing something or be bad at producing other things. The Korean comparative advantage that the authors refer to is likely a little from column A and a little from column B. The authors also seem to be using "economy" and "producers" interchangeably, as in "And Econ 101 never explains how foreign mercantilist practices, like those China is embracing, can hurt the U.S. economy." In reality, the economy consists of both producers and consumers, and consumers benefit from the cheap stuff generated as a result of these policies. (Believe me, there are plenty of reasons to be wary of China, but "they're sending us cheap junk" is not at the top of that list.) I'm not even sure what to make of the last paragraph except to point out that the gains from trade don't really rely on WHY a particular nation has a cost advantage.
In addition, there is a recurring theme in the piece of "well, upper-level economics courses teach people about that sort of thing, but economists think that people in general are too stupid to understand so they only give the Econ 101 version." Since, judging by their Wikipedia pages, neither of the authors actually has a degree in economics, so it's unclear where this particular insight is coming from. That said, I do have some modicum of sympathy for the "Econ 101 doesn't tell the whole story" theme, since, in a lot of cases, it doesn't…and that's why the vast majority of policy advisers have been exposed to more economics than a one or two semester principles sequence. In fact, my students are subjected to a taste of these "upper level" discussions every time I discuss an Econ 101 concept that doesn't seem to square with reality, as are most people who read about economic research in the media, so I find it hard to believe that this information is being systematically hidden by economic policy advisers.
You guys, the world has got to stop this nonsense, since it's exhausting to keep writing articles like this. (At least the Michael Sandel one was shorter.) I'm becoming increasingly convinced that Econ 101-bashing is the new cat video of Internet link bait, and it's really not productive. (Does that mean that it counts as rent seeking?)
P.S. My, well, model, if you will, honestly thought that the referenced article was written by a a teenager akin to those who walked out of Mankiw's class in a huff during the Occupy movement, and he was dumbstruck to learn that the real culprits were a couple of middle-aged men. Also, I just literally had this conversation: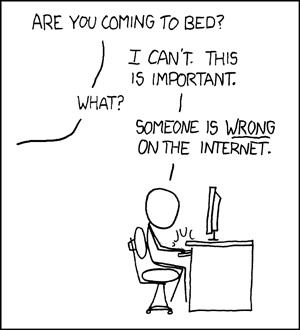 Update: This was originally in the comments, but I figured it was also worth posting here for clarification:
I went back to the text of the original article and determined that the authors' beef was actually with some combination of Econ 101 and what economists in the wild tell the world about economics. Their thesis seems to be that economists only present the Econ 101 version of events, which supposedly creates the myths they list. Therefore, my rebuttal is a combination of "actually, Econ 101 is more nuanced than you think" and "economists are actually trying to tell you useful things but you aren't listening."