Sometimes I feel like the comics I come across are written just for me…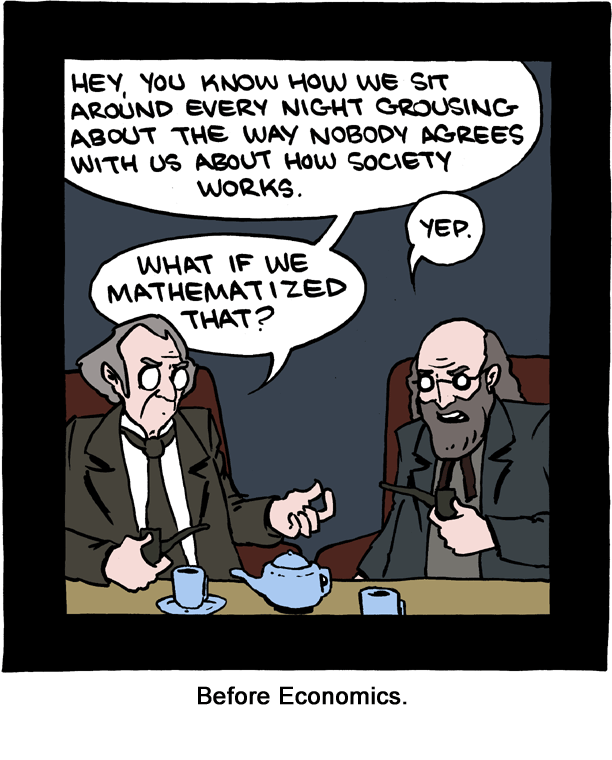 …especially since this came out as I was putting together my lecture slides for the first day of Econ 101. I really want to point out how this comic is inaccurate, but the only counterargument I have is that Adam Smith is generally regarded as the father of modern economics because of his work The Wealth of Nations, but that work doesn't really have any math in it. So really I only have a counterargument on a technicality. (In related news, if you've ever wanted to read the Wealth of Nations but worried that it was too difficult or dry, you should check out P.J. O'Rourke's On The Wealth of Nations: Books That Changed the World
.)
My principled objection to the joke in the comic (I know, I ruin everything), is that one could easily replace economics with physics without any loss of validity, so why do people pick on the mathematization of economics so much? Yes, the models that economists use are obviously simplified views of reality, but it's not like you hear physicists say "gravity causes items to fall at an acceleration of 9.8 meters per second per second in a vacuum" and then get repeated responses of "yeah, but we have air resistance in the real world, so your field is crap." (Though I am curious as to how physicists would respond to that.)
Obviously, a big part of the difference is that physicists and other "real" scientists can conduct carefully controlled experiments in order to verify or disprove their theories. In contrast, economists often can't do this, either because it's not socially palatable or because it's difficult bordering on impossible. Nick Rowe gives some good insight:
Let's suppose you wanted to design an experiment to test the effects of monetary and fiscal policy. And suppose you had the power to do whatever you wanted, and couldn't care less about getting clearance from the Research Ethics Board. What experiment would you design?

Probably something like: get 100 countries, then for each country toss two dice, one for monetary policy, the other for fiscal policy, then watch what happens for a couple of decades. That should settle the question.

Now, just for a laugh, imagine you wanted the worst possible experiment design. An experiment design so bad that no researcher would ever be able to figure out the effects of monetary and fiscal policy by looking at the data. What would you do?

Probably something like: make monetary policy negatively correlated with fiscal policy, and negatively correlated with any other shocks you observed hitting the economy. So it would be impossible for the researcher to disentangle the effects of monetary policy, fiscal policy, and any other observed shocks. If you were feeling really mean, you would do your best to try to set monetary policy and/or fiscal policy so that nothing ever did happen to the economy. So all the researcher would ever observe would be a few small fluctuations in the economy due to shocks you didn't observe (and he probably can't observe either), plus a few small fluctuations because you over-compensated or under-compensated for the shocks you did observe, and even here the researcher won't be able to figure out even the sign of the effect of monetary policy because he won't know whether tight money caused inflation or whether you just didn't tighten monetary policy enough in response to an inflationary shock.

That's the world we live in. We live in something very close to the worst possible experiment design for testing macroeconomics. We live in a house controlled by Milton Friedman's Thermostat. It's sometimes a wonky thermostat, that under- or over-compensates for the shocks it can see, but it's still a thermostat. For all its faults, it does not play dice with the amount of oil going into the furnace. Even if it did play dice, you could never be sure that it was playing dice, or just responding as best it could to some shock it sees that you don't see.

You want us macroeconomists to figure stuff out better? Sure. No problem. Just lend us 100 countries for a couple of decades, and let us play dice with monetary and fiscal policy.
I suppose a corollary to this would be "look, most (macro)economists are doing their best with what they have, and sometimes they are asked to give advice on matters that the field doesn't have definitive answers to." I'm at least pretty confident in saying that such advice wouldn't be systematically wrong…
…but apparently the world doesn't share my perception, as evidenced by Ryan Avent's summary of two key findings from work by Paola Sapienza and Luigi Zingales. First, people, even people with similar demographics to economists, don't agree with economists:
Second, knowing what economists think on these matters doesn't get people to agree with economists and can sometimes even cause them to disagree more:
Economists might conclude from this that they just need to shout their views more loudly. But communication is only part of the problem. Ms Sapienza and Mr Zingales note that when Americans are told what economists believe before answering a question, their view scarcely budges. Told that economists favoured a carbon tax, the share of the public supporting the tax rose only marginally, from 23% to 26%. The public actually grew more confident in its ability to pick stocks successfully after learning that economists think it is close to impossible. Americans seem to believe that economists operate in a fact-free environment, a bit like Buddhists, commented Robert Hall of Stanford University.
In other words, economists know that they're no better than monkeys with dart boards when it comes to picking stocks (see the first survey question), and the general public thinks that they are either in line with or worse than the monkeys with regard to everything else. I guess at least that part of the comic is spot on. =P