Today on About.com, I posted about an economic report from Goldman Sachs that discusses several economic predictions for the 2012 summer games. Among my favorites are:
Gold Goes Where Growth Environment Is Best–Using Our GES to Predict Olympic Medals
The Olympics as a Winning FX Strategy
Impact of Olympics on Stock Markets
(I have to wonder, though, if Goldman is as good at predicting medal counts as this guy.)
Because I have a dirty mind (see site name), I can't help but also share with you a fun feature of the Olympic logo. First, a normal version: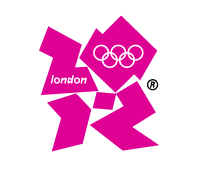 Now, one from the mind of a very sick person with an obsession with The Simpsons:
What on earth is Lisa doing to Bart??? I can't unsee it, and now neither can you. You're welcome.