I wrote about the tragedy of the commons a couple of weeks ago, and I even included a musical number for your viewing pleasure. (As a follow up to one of the reader comments on the earlier article, I am pretty sure that that is not Warren Buffet in the video, but it would be totally amazing if it were.) Now that we're all familiar with the concept, does this really count as the tragedy of the commons? I can't decide.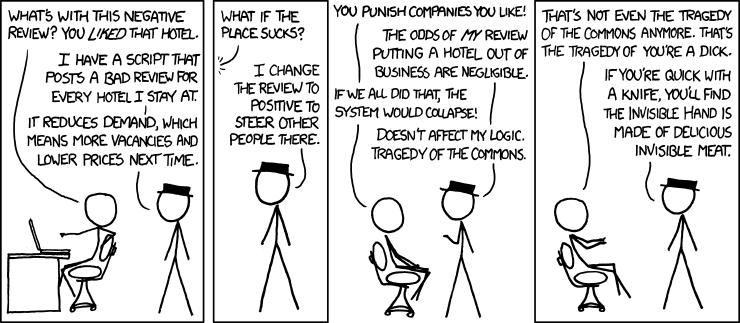 It's certainly a coordination failure of some sort. It's also totally a thing that an economist would at least consider doing. (In fact, an economist friend scolded me one time for publicizing a really good deal on massages since the increased business would make it harder for us to get appointments. He's not wrong, but…sigh.)
The tragedy of the commons is usually used in the context of consuming more of a resource than is socially optimal because it is costless to do so. This seems more like a…hmmmm…pecuniary externality? A pecuniary externality, according to the Internet:
A pecuniary externality is an externality which operates through prices rather than through real resource effects. For example, an influx of city-dwellers buying second homes in a rural area can drive up house prices, making it difficult for young people in the area to get onto the property ladder.
So one could argue that this guy's reviews are inflicting a negative pecuniary externality on the hotels? Or perhaps they are inflicting a positive pecuniary externality on other consumers who get the good hotels for cheaper because of the reviews? Maybe the review is just offsetting the pecuniary externality that the guy's hotel demand created. The particular terminology is all very unclear. If you need me, I will be working on developing an economic term for "being a dick."