You know the joke about the New Yorker cartoons being hard to get? (There's even a Seinfeld bit about it.) Apparently Saturday Morning Breakfast Cereal is continuing the trend: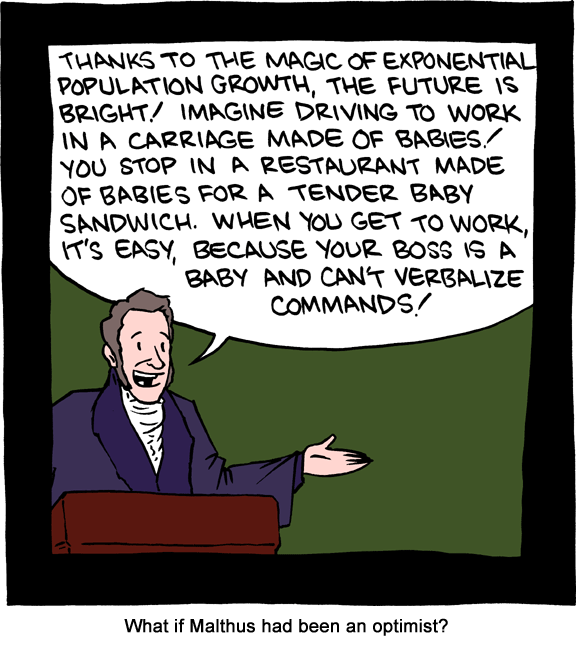 Actually, I am pretty terrible at guessing what people get and don't get, so perhaps I shouldn't assume anything…I'll just turn my assumption into a lesson instead:
You know that whole economics as the "dismal science" thing? Yeah, we supposedly have Malthus to (indirectly) blame for that. From wikipedia:
It is often stated that Carlyle gave economics the nickname "the dismal science" as a response to the late 18th century writings of The Reverend Thomas Robert Malthus, who grimly predicted that starvation would result as projected population growth exceeded the rate of increase in the food supply.
In fact, if the situation in the cartoon above were to have transpired, economics would likely have been labeled just another "gay science" like music and poetry. (No really, that's what they were called. I'm now picturing a bunch of "science is so gay" t-shirts and can't decide whether Carlyle and Malthus did economists a favor on the marketing front.) Actually, that's not true, since the story quoted above is somewhat of an urban legend. Justin Ross was kind enough to post the actual etymology of the term on an earlier post:
Actually, Carlyle's objection was that the economic theory undermined arguments for "lesser races." As Levy and Peart write:

While this story is well-known, it is also wrong, so wrong that it is hard to imagine a story that is farther from the truth. At the most trivial level, Carlyle's target was not Malthus, but economists such as John Stuart Mill, who argued that it was institutions, not race, that explained why some nations were rich and others poor. Carlyle attacked Mill, not for supporting Malthus's predictions about the dire consequences of population growth, but for supporting the emancipation of slaves. It was this fact—that economics assumed that people were basically all the same, and thus all entitled to liberty—that led Carlyle to label economics "the dismal science."

The cite for this can be found here: http://www.econlib.org/library/Columns/L…

We should wear "the dismal science" label as a badge of honor!
Hmmm…so I suppose I would rather be dismal than gay? I'll take it, but it sounds a little weird either way. Personally, I am a bit surprised that Malthus' predictions actually worried people, since Jonathan Swift had already proposed a solution a number of decades earlier.