Dear Saturday Morning Breakfast Cereal: Who are you people? I'm very curious. I mean, in the past I've noticed that you seem to know more about economics that the average person, but the following takes things to a new level: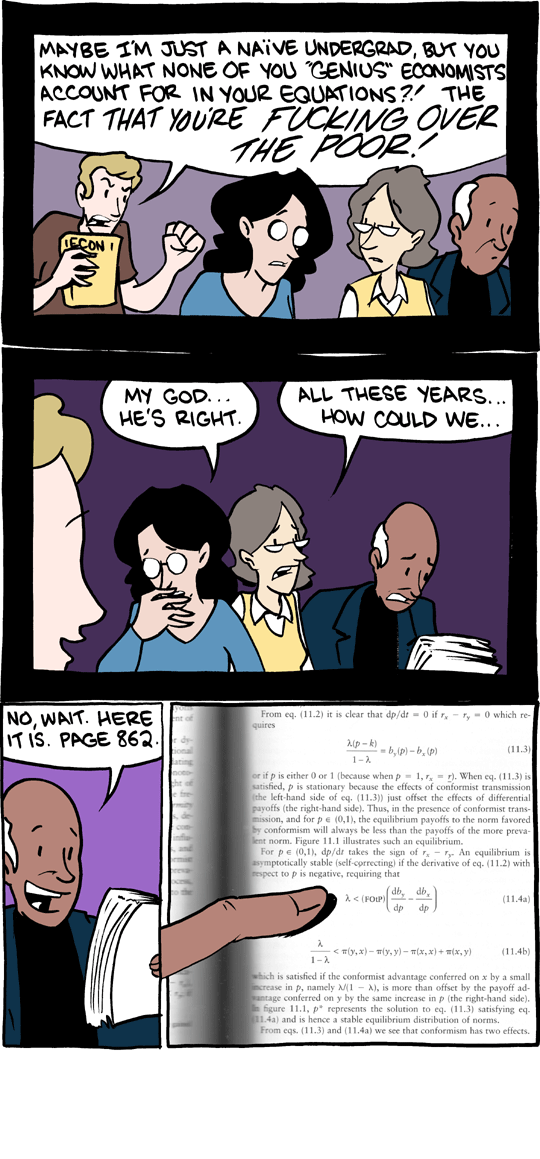 See, I have a suspicion that you know that, for the most part, you're not wrong. However, and I don't know if this makes economists better or worse than you illustrate, the implication that economists accidentally ignore the distributional implications of policies (read, whether or not they are going to fuck over the poor) is just not fair. We ignore them on purpose, obviously.
Wait, what?
Hear me out…when economists talk about economic value (surplus, in technical terms), we measure this value of everything, both tangible and intrinsic, in dollars, and we don't explicitly model who the dollars are going to. This means that economists often make the simplifying assumption that the value of an additional dollar to me is the same as the value of an additional dollar to Bill Gates- clearly not a reasonable assumption when taken in a strict sense. Nonetheless, economists, for the most part, focus on the concept of efficiency (i.e. how close a scenario gets to the maximum economic value possible) as a starting point for analysis.
Why don't we adjust our models to take distribution into account? Mainly because it's hard. (Wow, I am not helping anyone's case here, am I.) It's hard for a number of reasons- first, it's often hard to determine who the benefits and costs of various programs go to, especially when we consider the secondary effects of a policy. For example, it's pretty clear that a subsidy on corn helps corn farmers and people who buy corn (at the expense of taxpayers of course), but it also technically helps the people who make stuff that corn farmers buy with the extra income they have from the subsidy, and so on. Second, the question of what a dollar means to me compared to what a dollar means to Bill Gates is more a question of philosophy than one of economics, and many economists won't even touch such issues with a ten-foot pole. Third, if a policy maximizes the size of the overall economic pie, it is theoretically possible to devise an after-the-fact transfer that makes everyone better off then they were before, in which case the explicit equity question is irrelevant. (I worked for a professor that referred to this sort of change as "potentially Pareto improving," where a Pareto improvement is a change that makes some people better off without making anyone worse off.)
To be fair, most economists do acknowledge that these transfers don't happen automatically (or at all in a lot of cases), and some textbooks point out that "real policymakers" might want to care about equity in addition to efficiency. In a policy-making context, the efficiency calculations should be taken as one piece of the overall puzzle as oposed to an objective "right" answer, and I think that this subtlety gets lost in the shuffle sometimes. On the other hand, it's unwise to automatically reject policies that increase efficiency simply because they could be viewed as unfair. (The right question is likely something of the form "is it worth sacrificing X in terms of efficiency in order to get Y in terms of equity or fairness?" or vice versa.)
For example, economists have estimated that American consumers paid about $160,000 per year in higher than necessary car prices in the 1980's for each job saved due to export restraints placed on Japanese cars. Last time I checked, the average auto worker didn't make $160,000 (especially not in the 1980's), so lifting the quota would have led to increased efficiency. This doesn't automatically mean that everyone is better off- some people get cheaper cars and others get left without jobs. Some people even get both cheaper cars and no jobs, but an important point is that the gains to the winners are larger than the losses to the losers, so if we could find a creative way to compensate people for their lost jobs (without causing too much inefficiency in a different place, of course) then everyone should be happy. Alternatively, we could take a more holistic view of the world and realize that the losers in some policy situations are likely to be winners in others, so maybe the equity consequences aren't as dire as they might seem on the surface. Or the world could just carry on thinking that economists are big a-holes, you know, whatever.
In case you're curious, I pick apart my friends' jokes like this too…and no, I don't get invited to comedy shows anymore. Luckily, I know better than to confuse correlation with causation. =P