Not surprising: that the Wall Street Journal would pick up a story about new research on the relationship between money and happiness:
The study, which analyzed Gallup surveys of 450,000 Americans in 2008 and 2009, suggested that there were two forms of happiness: day-to-day contentment (emotional well-being) and overall "life assessment," which means broader satisfaction with one's place in the world. While a higher income didn't have much impact on day-to-day contentment, it did boost people's "life assessment."

Now we have more details from the study, conducted by the Princeton economist Angus Deaton and famed psychologist Daniel Kahneman. It turns out there is a specific dollar number, or income plateau, after which more money has no measurable effect on day-to-day contentment.

The magic income: $75,000 a year. As people earn more money, their day-to-day happiness rises. Until you hit $75,000. After that, it is just more stuff, with no gain in happiness.

That doesn't mean wealthy and ultrawealthy are equally happy. More money does boost people's life assessment, all the way up the income ladder. People who earned $160,000 a year, for instance, reported more overall satisfaction than people earning $120,000, and so on.

"Giving people more income beyond 75K is not going to do much for their daily mood … but it is going to make them feel they have a better life," Mr. Deaton told the Associated Press.

He added that, "As an economist I tend to think money is good for you, and am pleased to find some evidence for that."
Surprising: That the author (I assume that it's the author rather than an editor, since it's a blog post, but I could be wrong) chose the most misleading title ever: "The Perfect Salary for Happiness: $75,000." Come on now, Mr. Frank, you know better than that.
Not surprising, at least not to me: When I was a research assistant for Bob Putnam, it was my job to run regressions on a huge survey dataset about social cohesion and trust and whatnot. I noticed that there was a variable called "econsat" in the data that represented the survey respondents' self-reported economic satisfaction at that particular point in time. I remember trying really hard to find a relationship between that variable and income, either in absolute terms or relative to one's census tract or whatever, and coming up with nothing. Maybe that just means I'm a crappy researcher, but it also means that, since people were likely thinking about that economic satisfaction on a day to day basis as described above, the findings above are not particularly surprising to me.
Surprising: That Randall Munroe must have at least some of the same Google Reader entries as I do. the latest xkcd comic: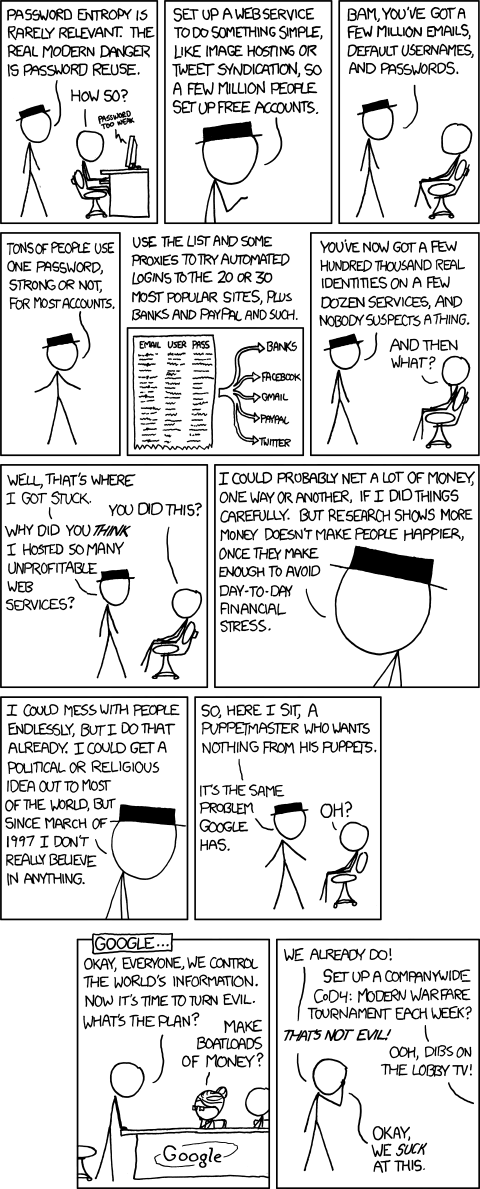 Spooky. And also a good lesson in incentives, no?