I was gonna write this post, until I got high
I was gonna get up and find my notes, But then I got high
My post is still not done and I know why, (why man) 'cuz I got high
Because I got high
Because I got high
— Afroman, with a little help from econgirl
Normal people procrastinate by getting stoned. I apparently procrastinate by reading about the projected economic effects of pot legalization:
The Santa Monica-based, nonprofit research institute predicted the cost of marijuana, which runs between $300 and $450 per ounce, could plunge to about $38 by eliminating the expense of compensating suppliers for the challenges of operating in the black market.

The researchers were not certain how much that decline in price might spur use, but noted that one typical estimate is that a 10% drop in price increases use by about 3%. Other factors, such as the elimination of legal risks, could also increase usage between 5% and 50%.
I'm enough of a nerd that I went through and read the whole RAND report, which is entitled "Altered State?" (I love punny titles) and can be found here. My first thought was the following (from an xkcd t-shirt):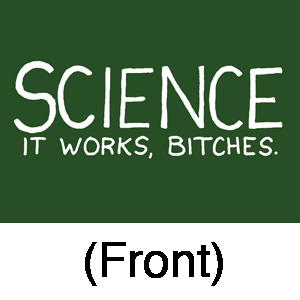 (Please spare me the comments about social science versus "real" science. It's not like I don't know, ok? Hmph.)
So let's walk through this. (Feel free to grab a joint to puff on as we go.) On the supply side, there are two ways we could think about this. One is what economists would call an increase in technology, which just means that if pot is legalized growers will be able to get more output for a given level of input resources. The simple reason for this is that it's generally more efficient and cost-effective to use legitimate large-scale agricultural technologies than it is to stealthily produce foliage in a dark closet. (I mean, I can't even keep basil alive indoors, let alone weed.) Alternatively, we could think of this as a decrease in input costs, since it's pretty clear that the per unit cost of growing weed would be lower if it was legal, for exactly the reasons described above. In addition, growers would be willing to produce more at a lower price because they wouldn't need to be compensated for the inherent risk in producing an illegal substance. The report estimates that the per-ounce price of marijuana would decrease due to changes in supply from the current price of somewhere between $300 and $450 per ounce to about $38 per ounce. Graphically, that looks something like this:
(I just took the middle ground and used $375 as the starting price. Also, the shift could also make the curve flatter or steeper, but this is at least a decent qualitative representation of the scenario.) The increase in technology and lowering of input costs shifts the supply of weed down and to the right, which results in a lower price of weed ($38) and a greater quantity of weed consumed. (Probably also higher quantities of Doritos and Krispy Kreme, but that's a separate issue.) Now, you're probably thinking to yourself "But wait, wouldn't the demand for weed also change?" And you're right- part of the increase in the amount of weed consumed is due to the fact that it's cheaper, but part of the increase is due to the fact that it's legal and thus more available and something that you don't have to hide from the kids, neighbors, cops, etc. (I had a friend in high school that would take her parents' weed because it's not like they could really call her out on it. I went to the smart kids' school.) The fact that demand for weed changes not only due to price but also due to non-price factors means the total picture looks something like this:
When you factor in the increase in demand, this picture shows that the price of weed should end up somewhere between $38 and $375. (Quite the precise range, eh?) It's hard to say where in this range the price will fall, largely because it's really hard to determine what the increase in demand will look like and how steep or flat these curves are. (Economists usually estimate elasticity by observing different price/quantity pairs in the wild, and pot dealers don't so much like publishing their sales figures and whatnot, so there are pretty severe data limitations. Even the researchers speculate on a wide 5% to 50% increase, as noted in the quote above.)
In the long run, taking the increase in demand into account may not be much of an issue. You may have noticed that the quote above completely ignored the impact of increased demand on price. That is because, in a market that has sufficient competition, demand-driven price increases will lead to more companies entering the market and pushing the price back down. This means that, in the long run, supply and demand look something like this:
What this says is that, in the long run, suppliers will supply as much weed as the market demands at a price of $38 per ounce, since new suppliers will enter the market if it is too expensive for existing suppliers to increase their production capacity. That said, I am going to continue to focus on the short-run model, since I have to idea how long it takes to reach the long-run scenario. (And besides, in the long run we're all dead, right? =P) Now that we understand the dynamics of a free market for pot, consider the fact that the state of California is proposing a $50 per ounce tax on weed. This, not surprisingly, will raise the price of weed for the consumer (inclusive of the tax), lower the price of weed that the producer gets net of the tax, and reduce the quantity of weed consumed and produced. Oh yeah, and it will raise some money for the government:
Here, the Q* represents the quantity of weed that would be transacted if there were no tax, and the Q* with the little T on it represents the quantity that would be bought and sold with the tax in place. The brown rectangle represents the government's revenue from the tax – the revenue is equal to the per ounce tax times the number of ounces sold, which is conveniently the same as the height times the width of that there rectangle. The RAND report says that the size of that rectangle is $1.4 billion, give or take a few billion.
Again, what's with all the uncertainty? At a basic economic level, the amount of tax revenue depends on how steep or flat the supply and demand curves are. Consider the following two possibilities:
(That illegible blob reads "$50," in case you were curious. Gotta love how diagram quality degrades as we go along in this post.) In this case, producers and consumers aren't very price-sensitive and the tax doesn't scare very many of them away. If this is the case, the government gets to collect a lot of cash from stoners. However, the situation could instead look like this:
In this case, consumption and production decreases significantly because consumers and producers are very price-sensitive and many decide that the $50 tax tips the scale from stoned to sober. Again, it's very hard to tell what the real picture is, so a tax is going to be largely a matter of trial and error for the government. (The estimate quoted above suggests that the current demand curve is pretty steep, but this could likely change as a result of legalization, since the relative priority of price versus legality would shift.)
If you've been paying attention, you have probably noticed that the proposed tax rate is pretty exhorbitant- 132% if the $38 per ounce price figure is to be believed. (And, in the long run, all of that tax burden will fall on the consumer.) Even compared to gasoline taxes, which hover around 45 cents per gallon, and alcohol taxes, which are hard to put a single number on due to the varied nature of booze but are nonetheless known to he high, the weed tax is easy to view as excessive. Luckily, the state of California has a bit of leverage here in that a. it can play the "well, do you want it legalized or not?" card, and b. people are used to paying somewhere in the $375 per ounce range, so even a long-run price of $88 per ounce doesn't sound so bad. (psychology and the State of California: 1; stoners: 0)
That said, some critics of the tax contend that it's going to be harder than it looks for the state of California to collect the full $1.4 billion from this tax. They make a few points, which have varying levels of validity:
There is a lot of potential for tax evasion – on the plus side for evasion is the fact that the system is already set up to secretly produce and consume marijuana. On the down side is that it's expensive and relatively challenging to grow weed in the closet. (It's harder than you'd think to keep things alive that don't make noise when they are hungry or thirsty- just ask my goldfi…oh, crap.) The black market pot producers aren't likely to get very far trying to sell the closet weed that drove the price up to $375 in the first place when the legit tax-inclusive price is $88. Theoretically, a combination of legitimate production and black-market selling would be ideal but likely hard to implement.
The California policy-makers don't seem to know a whole lot about weed – see, the thing is that weed comes in different varieties, and these different varieties have different levels of potency. A blanket per-ounce tax would shift consumption to higher potency weed, which would limit the total number of ounces sold and thus lower the tax revenue. The government seems to have figured this out for alcohol, since the tax rates per gallon differ widely for beer vs. wine vs. vodka, absinthe, etc. (If the per gallon tax was the same for beer as for spirits, we'd likely see a lot less Bud Light and a lot more Jose Cuervo. Not sure whether that would be an improvement or not.)
It's unclear whether other states will follow suit and do their own form of legalization – if I were governor of Arizona, for example, I would want to legalize marijuana and tax it at, I don't know, 40 cents an ounce. (And yes, I would also offer the "7 minute abs" video to compete with the "8 minute abs" video, thanks.) That way people would have an incentive to give their hard-earned cash to my state rather than to stinky old California. But then Nevada might come in and undercut both of us with only a 30 cent tax. This competition would make it difficult for California to maintain the levels of consumption that it initially profits from with the 50 cent tax. (And if you think that people don't pay attention to tax rates in their consumption decisions, just ask managers of duty-free shops or owners of liquor stores along the New Hampshire border*, since I'm sure they'd be more than happy to educate you, since they've been educated all the way to the bank…)
Luckily, the reduced cost of enforcement (apparently the war on tax evasion is cheaper than the War on Drugs) could make up for at least some of these potential shortfalls. Perhaps the state of California is learning a lesson or two from the story of Prohibition, as told by Daniel Okrent:
Just another example that, at the end of the day, money makes the world go 'round, no?
* Technically, the owners of liquor stores along the New Hampshire border are, at least where spirts are concerned, the state of New Hampshire, but the point still holds.