Reader Sean Writes:
In the spirit of 711 day where all the loyal patrons are lavished with a free slurpee, I recall past events at other stores that utilized the same gimmick. Particularly, I remember a smoothie shop that had recently opened a month or so before offering a free smoothie promotional for the entire day. For whatever reason, I attended this event along with 150 or so others.

Given the time it takes to make a personalized smoothie, being the 150th person in line basically guarantees at least an hour wait. And waited they did. This is despite that A) a smoothie cost like only 4 bucks and B) it happened to be in one of the most affluent zipcodes of Arizona.

Have you ever ran into this topic in your research. Why when something is 'free' are people willing to incur intangible costs that far exceed the $4 they are (mostly) unwilling to pay on any other day. I realize there might be benefits in the form of a sort festive gathering, but still. I recall Chipotle did the same thing- with the same results, same absurd wait.

Question: Why did I wait in line when I don't even really like smoothies?
So I did actually write about this sort of thing a while back after witnessing a perplexing situation at the Harvard Square Ben & Jerry's. From May 2009:
In pondering an earlier potential post I ended up doing a bit of research on Ben and Jerry's. I had learned that April 21st was free cone day, and I was going to impart this oh-so-important knowledge on my lovely readers…but then I got disinterested in the post and it never got published. (It happens a lot, in case you are curious. I currently have about 30 or so drafts happening. Call it Economic Attention Deficit Disorder.) I apologize profusely for denying you your free cones, since as an economist I really like to err in favor of thinking that more information is better, but part of me feels like I may have done you a favor. Behold:
That is a damn long line for a free $4 item. (It was actually longer than it looks in the photos.) Let me remind you of Economic Principle #2, courtesy of Greg Mankiw: "The Cost of Something is What You Give Up to Get It." In economic terminology, this concept is called opportunity cost. I bring up these ideas to make the point that the ice cream cone is not actually free unless your time has no value (and you like waiting in line as much as you like other activities). Let's think about a few (contrived) scenarios:
Suppose you have a job that pays you $10 per hour. To go to Ben and Jerry's and wait in the line for your "free" ice cream cone takes one hour. Therefore, you gave up the $10 you could have made by working, and the opportunity cost of the ice cream cone is $10.
Suppose you don't have a job and spend your days sitting on the couch and watching TV. In this case, you aren't giving up money to wait in line for your ice cream, but you are giving up an hour of pleasurable couch sitting and TV watching. I would have to imagine that sitting on the couch and watching The Daily Show, or 30 Rock, or Psych…or whatever floats your boat is more pleasant than waiting in line, so you are still incurring some sort of cost to get your ice cream.
This is not to say that the ice cream is not worth it- rather, I am just trying to make sure that you know how to think about the choice in the most sensible way possible. But wait- psychologically, there is even something else to think about in the decision-making process. I will call this Economic Principle #372: People Like To Feel Like They Got A Good Deal. Richard Thaler would call it transaction utility. In other words, it could very well be the case that the usefulness of the ice cream itself is not enough to make it worth it to wait in the line, but the happiness you get from knowing you got something for "free" could push you over the edge. Food for thought, literally.
In theory, you could extend the concept of transaction utility to account for the fact that some people really like getting things in the mail, since it separates payment from consumption and makes you feel like it's your birthday whenever something shows up. I am one of those people, and thus I can relate to the following xkcd cartoon: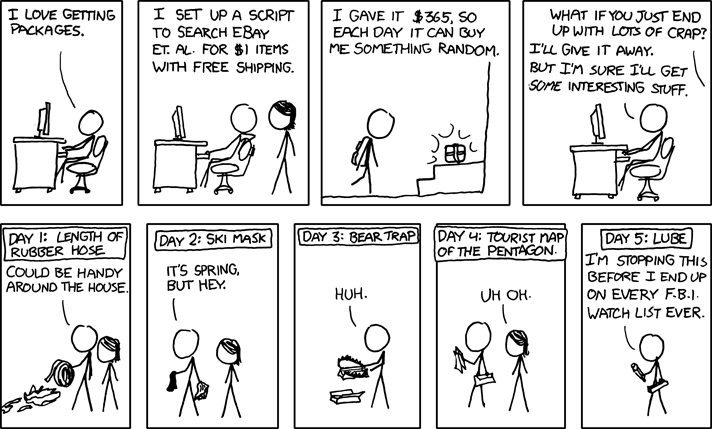 I also did a follow up back in March, mainly to alert people to the fact that it was not only free cone day but also (sort of) free pastry day, even though I think waiting in line for an hour for these "free" things is usually pretty idiotic. (See how non-paternalistic I am?) I find Sean's note to be particularly interesting due to the fact that he makes it clear that he is aware of the concepts of the value of time, opportunity cost, etc., so I have to rule out ignorance as a potential explanation. Therefore, I am compiling a new list of reasons why we might observe this behavior from people like him:
Large enough transaction utility – i.e. Sean gets enough satisfaction from getting stuff for free that it outweighs the time and effort expended.
Sean's value of time is very low – perhaps he is unemployed or injured in such a way that sitting on the couch is not enjoyable.
Sean is really fascinated by lines – if this is the case, I suggest a career in queueing theory and operations research. (Personally, I am in fact a little fascinated by lines.)
Sean is using the free smoothie as an excuse to procrastinate. (For the record, I prefer to me the pot, and Sean can be the kettle.)
Sean wanted an excuse to write to me with a reader question. 🙂
Can you think of other potential explanations?