My friend Marty is convinced that he can't possibly be the only person who follows both my site and Saturday Morning Breakfast Cereal. I'm not sure I agree, but I'm thankful that he is nice enough to send along relevant links anyway.
From Saturday Morning Breakfast Cereal: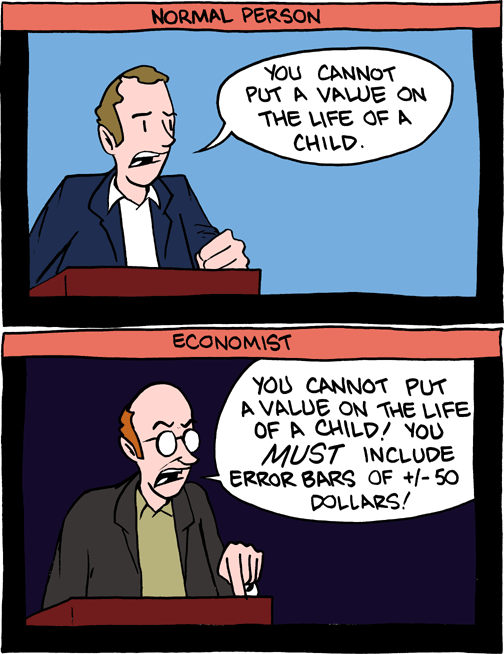 I can't tell whether the creators of this realized how close they were to being correct. For example:
$1.54 million. Exchange rate — 190 million yen, 980,000 British pounds or one human life. That is the statistical worth of a person, according to studies by economics professor Orley Ashenfelter GS '70.

After years of conducting research on the effects of speed limit changes, costs involved and traffic fatalities, Ashenfelter and Michael Greenstone GS '93, an assistant professor at the University of Chicago, calculated the statistical value of a human life.
You can read the whole article here. Ashenfelter and Greenstone's reasoning was basically the following:
When speed limits are increase, people drive faster, even though it's more dangerous.
These people drive faster because it saves them time.
Time is money.
Therefore, we can compare the monetary value of the time saved to the increase in the risk of death to figure out how much people value their lives. For example, if people make $20 an hour and are willing to increase risk of death by 1 percentage point to save 3 hours, then they must value their lives at most $60/1% = $6000. (This of course assumes that people are aware of precisely what the risks of driving faster are.)
There are a number of variations on this general principle, but they usually center around questions of "how much are people willing (and able) to pay to avoid risk of death?" or "how much do people demand to be compensated in order to be willing to face increased risk of death?" Economists, for the most part, seem to be fine with this sort of approach, but the principle seems to be more than a little off-putting to the general public. Perhaps people's discomfort comes from the fact that the aforementioned questions often result in higher life valuations for higher-income people, perhaps they don't want to acknowledge that these sorts of tradeoffs exist in the world, or maybe they just hate anything having to do with numbers. Personally, I find it interesting that the objections to this type of estimation persist despite the fact that economists use people's revealed preferences to determine how much THEY value their lives rather than trying to tell them how much their lives should be worth.
Palatable or not, such a valuation is necessary and very important in a policy context. If policymakers went with what our mommies told us when we were little, they would argue that we're all priceless. The logical extension of this is that if people are priceless little flowers, then any amount of expenditure is justified if it brings about any reduction in risk of death. However, I'm guessing even those that hold tightly to the belief that we are all special snowflakes would agree that a society shouldn't spend $10 trillion to enact a change that will on average result in 2 fewer deaths per year. Those snowflake-defenders then need to realize that as soon as they make that judgment they've put an upper bound on the value of human life.
See, economists and normal people aren't that different after all. And you, dear readers, really are special snowflakes.