(I just couldn't resist. Also, can you just imagine the kinds of search traffic I am going to get now?) A few days ago, I tweeted the following:
"Many women who do not dress modestly lead young men astray and spread adultery in society which increases earthquakes." -Iranian cleric
That quote is in fact real and not from The Onion. Scary, right? Even scarier is the fact that this led to a movement referred to as Boobquake being created for the purpose of proving this assertion wrong by having as many women as possible show as much cleavage as possible. From CNN (yes, that CNN, since it covers the really important news):
Jen McCreight, a self-described atheist, feminist and geek "trapped in Indiana," who started the experiment, began her morning with a whole lot of press interviews Monday, but she also made sure she began the effort personally, posting her "boobquake" photo on her blog.

CNN reported about McCreight's proposed experiment after she took issue with the remark about women causing earthquakes and took to her blog.

Her response? Prove the cleric wrong with "Boobquake"– a day when as many women as possible show their cleavage, dress scantily, and hope no earthquakes occur.
Technically, the cleric said that it was the adultery as a result of boob that caused the earthquakes, not the boobs directly, so this woman should be not only encouraging cleavage but also extramarital sex in order to really make her point. I will spare you the actual photos (since the title of my site invites enough people looking for porn as it is, thanks), but here is a summary of the situation, via Girls with Slingshots:
We're clear now on the setup, right? Well, here's the sad part. At about 11am Eastern Standard Time, a 6.9 magnitude earthquake hit Taiwan. Oops. So should the people of Taiwan begin sending steaming piles of dog poo to this Jen person? Let's investigate.
I've written a lot before about the fact that correlation does not imply causation (or why Stouffer's dinners won't make your kids smarter, adding more bathrooms to your house won't change your kids' SAT scores, etc.). Here's one of my favorite pictoral reminders: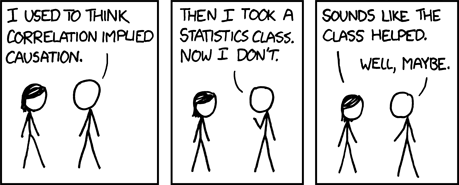 In this case, the logical fallacy is referred to as the post hoc ergo propter hoc, or "after this, therefore because of this," fallacy. The problem with attributing this earthquake's presence to the plethora of exposed breasts popping up all over the world is that we don't have what is known as a counterfactual or "but-for" scenario- in other words, we have no information on what would have happened had all of the women participating in Boobfest been wearing turtlenecks. In an ideal world, we could establish causation by running a controlled experiment by having two identical versions of the planet, one with the turtlenecks and one with the free-flying boobs. We could then compare the earthquake frequencies and determine whether the difference in earthquake activity is statistically significant. Unfortunately, since we don't have a carbon copy of the world to play with, we can't take this approach.
This inability to create a carbon copy of the universe is present in a lot of scenarios, so social scientists have to be more creative in their data analysis if they want to credibly establish causal links. This analysis usually comes via the use of what are called instrumental variables– statistics that serve to randomize scenarios into control and experimental groups. For example, in order to look at the effect of military participation on future earnings, economists used draft lottery numbers to separate out the control and experimental groups. In this way, they could identify people who were more or less identical, with the only difference being that some got unlucky and others didn't. Therefore, if the future earnings of the two groups are different, the difference can most likely be attributed to military participation. (You can read another example on the wikipedia page.)
In this case, what would make for a good instrumental variable to use? Let's see…the most obvious choice is temperature, since more woman are showing cleavage when it's hot out. However, this potentially doesn't work in our setup, since it could be the case that earthquake frequency is also temperature-dependent. (A quick Internet search can't seem to tell me whether this is the case.) If temperature is a factor in earthquake frequency, we wouldn't be able to tell whether the increase in earthquakes was due to boobs or climate.
On the other hand, if we used day of the week as an instrument, we might be able to get somewhere. The logic is as follows: It is likely the case that more women are showing boob (or otherwise dressed provocatively, which serves the same purpose in the context of this experiment) on the weekends. However, it is unlikely that earthquakes know what day of the week it is, so if there are in fact more earthquakes on weekends than on weekdays, the case is decently strong for the conclusion that it's because of the tarted-up females running around. (Unfortunately, there are hypotheses to be found on the Internet that state that earthquakes are correlated with moon phases, which I think correlate with days of the week, so my proposed analysis could be shot to hell if it turns out that those hypotheses are correct. However, given that the first search result on this topic was from occultview.com, I remain hopeful in the validity of my empirical strategy.)
Apparently Boobquake founder Jen has her own defense:
The day almost got off to a bad start – when a 6.0 magnitude earthquake struck Taiwain[sic]. But McCreight said that one doesn't really count since it occured outside her "Boobquake" time zone. Still she admitted the tremor was significant, but not really that unusual.

"On avg, 134 magnitude 6-6.9 earthquakes occur annually," she posted on Twitter.

Then, she took to her blog to clarify.

"If we get many of a similar magnitude in the next 24 hours, we might start worshipping the power of immodesty," she wrote.
Hmmm. She also hasn't considered the possibility that the Iranian cleric meant that promiscuity led to earthquakes in a more overall long-term sense, in which case you wouldn't see the individual stimulus-response pairing of boob -> earthquake even if the overall relationship was causal.
In summary, I wouldn't exactly send this woman a fruit basket if I lived in Taiwan, but more analysis needs to be done to determine whether she and her comrades are really causing the eventual downfall of the earth and whatnot. My money's on no, in case you were curious. More specifically, I'll even go so far as to say that the causal relationship goes in the other direction- technically speaking, at least in this case, the earthquakes caused the proliferation of cleavage, since if there hadn't been so many recent earthquakes, the cleric would probably not have made his statement, in which case there would have been no catalyst for Boobquake, and there would be fewer women showing cleavage, since at least some of them are claiming to be dressing provocatively solely for the purpose of this event. How do you like them apples? In any case, Gawker should rethink its Boobquake Actually Caused an Earthquake headline, since it really should know better.