In addition to teaching economics, I often find myself having to make a pitch for why it's important to understand economics in the first place. One of the reasons I usually give is something along the lines of "so you don't have to take on faith what politicians have to say about policy choices." I mean, how many times have politicians tried to say that they were going to save consumers from the evil oil companies by imposing taxes on the oil companies rather than on consumers?* People who paid attention in their economics classes know better.
* In case you don't remember, the burden of a tax ends up getting shared by consumers (in the form of higher prices inclusive of the tax) and producers (in the form of lower prices net of the tax) regardless of who the tax is placed on from a logistical perspective. In practice, there may not be perfect equivalence, but it's not really possible to have taxes affect one side and not the other.
Nowadays, I feel like I have to take that argument one step further and say that people need to understand economics so that they are aware of economists' lack of consensus, at least in macroeconomics, and calibrate what they read and hear appropriately. (If you are not familiar with the ideological divides in macroeconomics, Paul Krugman does a decent job of getting people up to speed. And yes, I get that Krugman is not the most objective writer ever, but his description in this case seems to be reasonably fair.) At the heart of the current debate is whether government spending can actually stimulate the economy out of the recession that it's currently in. (To the best of my knowledge, it is merely a coincidence that the sides of this debate roughly line up with the ideologies of the major political parties in the United States.) More specifically, some economists believe that government spending does result in more jobs overall, and others believe that government spending is wasteful in that it crowds out jobs that would otherwise be offered by the private sector, thus creating few, if any, new jobs overall and artificially diverting resources from their best uses. (The way that this crowding out could happen is via interest rates, and it's a tad more complicated that I would like to get into here.)
For example, consider the cartoon posted a few days ago on (the appropriately named) Cafe Hayek:
(For the record, I do love the comments on that post that suggest how the cartoon could be made more accurate. For example, one commenter suggests that Obama's blanket should be smaller than the part that is missing from the other dude's sweater.) Economist Dave Prychitko even calls this "One of the best economics cartoons I've seen in years." So where's the problem?
The problem lies in the fact that the economists on the other side of this ideological divide don't seem to be finding evidence of this crowding out phenomenon. At least Brad DeLong and Menzie Chinn don't:
Crowding out has a strong hold on many people's imagination. Some equate crowding out in the financial market with crowding out in the real side of the economy. Let me make a couple observations on why this simplistic equation need not hold. First, the empirical magnitude of investment crowding out depends critically on the interest sensitivity of investment expenditures. Second, if investment depends upon the change in GDP, as in a simple accelerator model (see a discussion of competing investment models here), then government spending that induces an increase in GDP can result in higher investment, despite an increase in interest rates.
(Prof. Chinn's original article can be found here. It's a bit more technical than I would like for this sort of forum, but it has some nice graphs.) So far I would give the advantage to DeLong/Chinn, for using actual data if nothing else. But wait, there's more…
Steve Landsburg summarizes Robert Barro's analysis of the stimulus effects in the Wall Street Journal in a handy table: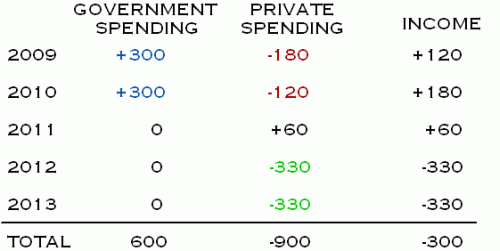 Hm. So the negative impact on private spending indicates crowding out…but the fact that the negative impact is less than the government spending implies that there isn't total crowding out…but in the long run it's a different story, since over time the negative impact on private spending is larger than the positive amount of government spending. Landsburg is very clear about what he supports about this analysis and what gives him pause, so his is a particularly good article to read.
So this leaves me at advantage…confusion? I think Barro's analysis is very solid, but it's still based on a lot of assumptions that may or may not be accurate. (When you assume, you make an ass out of u and…ok, I will stop now.) It's also a little convenient that all of these analyses line up with their authors' previously held ideologies. Nevertheless, I think I've made my point that issues such as these are not open and shut cases and thus shouldn't be treated as such. I remember one year on the first day of teaching undergraduate macroeconomics, Greg Mankiw pointed out to his students that he found macroeconomics to be more interesting than microeconomics because there were more unanswered questions to be had. Well, he's at least right about the latter part.