I write a lot on the danger of believing the "post hoc ergo propter hoc" fallacy (which is basically a fancy Latin way of saying "One thing happened after another thing, therefore one thing happened because of another thing), also known as "don't be stupid people, correlation does not imply causation." To recap:
A Primer On Correlation Versus Causation, This Time With Stick Figures…
On Why The New York Yankees Aren't Like Groundhogs…
On "The Least Surprising Correlation Of All Time", SAT Scores Edition…
First Comes Love, Then Comes Obesity…
Truth In Advertising, Home Cooked Meals Edition…
Apparently I'm not the only one who likes the stick figure example, since it's now being made into a t-shirt: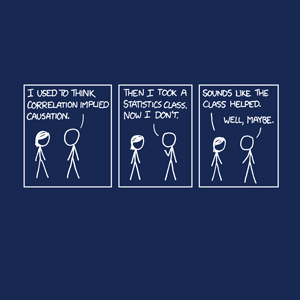 (I have to admit that I only just now got the full extent of the joke after seeing the cartoon like 500 times.)
I can't tell if my friend was trying to be cute or genuinely inquisitive (or both) by posing the following question in response to my post on the relationship between Yankee success and economic health: "Yes, but does causation imply correlation?"
Apparently this is what it's like to have really smart friends- I rarely know when they are kidding. So I gave an actual response:
"Dude, you just blew miy mind with that. Um…I was at first going to flippantly say that it did, but I think I can come up with counterexamples. Think about a case where a number of different things could cause a particular event. (an appropriate example event is "me going to Dunkin Donuts for iced coffee) Because there are so many causes, any… Read More one of which would trigger the DD run, the DD run usually happens. Therefore, even though something like "need to walk the dog" causes the DD run, the correlation wouldn't have to be very high since I go to DD most of the time regardless of whether I have to walk the dog. (In other words, even though knowing that I walked the dog tells you that I went to DD, knowing that I went to DD gives you very little information about whether I walked the dog.) Does that sound right?"
So now you know, in case you too had that nagging question in the back of your mind.
(In case you were wondering, correlation generally just refers to two things moving together, either in the same or in opposite directions. You can read more about the specifics of correlation here. An easy way to remember the difference is that correlation is symmetric whereas causation is not- If A is correlated with B, then by definition B is correlated with A. It is certainly not true that if A causes B then B causes A.)