I came across the following picture yesterday with the caption "When PCs Stand Out…"
(HT to Business Pundit.) Upon seeing this, my cynical economist mind went to a different potential caption of "Incentives: They Work, B*tches." (In fairness, monetary incentives don't ALWAYS work, but it's important to know when they do and when they don't.) For those of you who aren't familiar with the reference, it's from xkcd: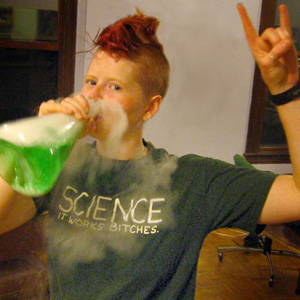 Anyway, the point is that I didn't really believe that this classroom situation happened because students just liked Macs SO MUCH that they all were compelled to buy them and bring them to class. So I did a little digging. First, I got a friend with much better eyesight that myself to point out that the shirts say "Mizzou." (Sidenote: It's kind of amusing how many students in the class are wearing school t-shirts and such. I can't remember really doing that much, but I will admit that now I really want this MIT shirt. In looking for that image, I noticed that MIT now also has an "Athletic Beaver Collection", which is just too funny to not look into.) I then Googled a bit for various combinations of Apple and Univeristy of Missouri. It didn't take me very long to find an article with the headline "Missouri Students Must Buy Apple." Heh. Well, that would explain a lot. Technically, the students only HAVE to purchase an iPod Touch, but still:
Columbia, MO – Students studying journalism at Missouri University are being told they must buy an iPhone or iPod from this fall.

According to the University's website, "Effective Fall 2009, students majoring in Journalism at Missouri are required to have either an iPod Touch (the minimum requirement) or iPhone to allow for the delivery of freshman-orientation information as well as course material. Students will electronically download such material to either of those devices from iTunes University, a no-cost component of the iTunes Store.

…

Missouri School of Journalism undergraduate and graduate students are also required to have wireless laptop computers. The minimum recommended configuration is a wireless laptop computer with the Microsoft Office suite of software.

…

"Students are encouraged to acquire wireless laptop technology from Apple, which the School has designated as its preferred provider."

But hang on, what if I prefer to use a Windows machine?

"That's an option, but it's one we do not recommend unless you plan to make a career of computer-assisted reporting. By the time you purchase photo, audio and video software for a PC, you probably will have spent more than you would if buying a comparable Apple Computer. Buy a PC if you prefer to do so, but make sure it is wireless and has Microsoft Office. Almost 100 percent of last year's freshmen chose Apple computers."

Naturally, these magnificent machines are available from the University's own shop at keen prices.
The reporter, while not particularly stellar on the grammar front, seems to have a keen intuition for incentives, since the article concludes with "We can only assume that MU is run by the world's biggest Apple fanboi. How else are we to explain the faculty's gushing enthusiasm? Surely they're not making money on the deal?" In this case, the discount on the Apple likely makes it a better deal for most students, so it's not like they are completely being led to purchase a "bad" product per se. However, in the interest of full information, fairness, non-sketchiness, whatever, it stands to reason that the university, if it is receiving such consideration above and beyond the discount to students (which it may or may not be), should disclose that information*. Students could then take the recommendations from faculty and school officials with the appropriate grain of salt.
In summary, the morals of today's story are as follows:
1. When you see a particular outcome, think about what might be incentivizing that outcome.
2. When you see a particualr outcome, think about what might be incentivizing those who are providing the incentives.
I could continue this list ad infinitum, but I think you get the point.
* The FTC recently changed its guidelines such that bloggers are required to disclose any material considerations they receive from makers of products that they talk about. Two points. 1. If I have to disclose such information, shouldn't the university have to as well, since it is essentially advertising for Apple? 2. Apple did not provide me with any material compensation towards the creation of this article…though I wish they would have.