Consider the following choice:
Option 1: You make $75,000 per year, the people around you make $50,000 per year.
Option 2: You make $100,000 per year, the people around you make $125,000 per year.
Traditional economic models suggest that this choice is easy- clearly more money is always better, so Option 2 is obviously superior. Yet when this question is posed to actual human beings, a pretty significant number of them choose Option 1. (I tried to find the exact numbers, but Google has for once entirely failed me, so you're just going to have to trust me here.) Behavioral economists then conclude that people care about how their incomes compare to those of their neighbors in addition to just caring how big the income number is in and of itself, and they reason that this is because social standing is important, yada yada…the phrase "The Economics of Bling" has even been thrown around a few times. As such, I give you the following paper by Kerwin Kofi Charles, Erik Hurst and Nikolai Roussanov entitled "Conspicuous Consumption and Race":
(Warning: read at your own risk)
Using nationally representative data on consumption, we show that Blacks and Hispanics devote larger shares of their expenditure bundles to visible goods (clothing, jewelry, and cars) than do comparable Whites. We demonstrate that these differences exist among virtually all subpopulations, that they are relatively constant over time, and that they are economically large. While racial differences in utility preference parameters might account for a portion of these consumption differences, we emphasize instead a model of status seeking in which conspicuous consumption is used to reflect a household's economic position relative to a reference group. Using merged data on race and state level income, we demonstrate that a key prediction of our model – that visible consumption should be declining in mean reference group income – is strongly borne out in the data separately for each racial group. Moreover, we show that accounting for differences in reference group income characteristics explains most of the racial difference in visible consumption. We conclude with an assessment of the role of conspicuous consumption in explaining lower spending by racial minorities on items likes health and education, as well as their lower rates of wealth accumulation.
Okay, let me translate. (Appreantly I am getting good at this.) Some minorities spend a significantly higher percentage of their money on bling than white people do. This can't all be explained by a simple "black and Hispanic people like bling more" sort of statement, so there has to be something else going on. We develop a model where people are using bling as a signal of wealth, and this model suggests that as the neighbors' income increases, "keeping up with the Joneses" becomes less valuable (or probably more fruitless), and so we expect to see conspicuous consumption decline as neighbors' incomes rise (holding everything else constant). This prediction is borne out in the data. Furthermore, if minorities are out buying more expensive sneakers than others, they are spending less on things like health insurance and education, and they are saving less as well.
Actually, Indexed can do you one better: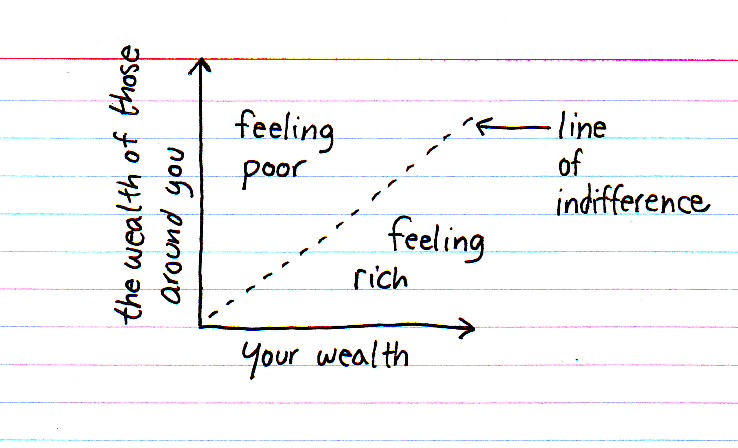 People like to make more money than their neighbors because it makes them feel richer, and people are sometimes willing to actually be less rich in order to feel richer. Furthermore, as evidenced above, people buy random sh…er, stuff, to make themselves look richer, and this might even make them feel richer as well.
This is all fascinating from a psychological perspective, but could there be a more logistical or practical reason for wanting to make more money than one's neighbors? I will quote a friend of mine: "Hm…well, one upside of the banking crisis is that it's much easier to get reservations at Per Se." She was being (partially) sarcastic, but there's a lot of truth to the concept. The simple fact of the matter is that prices are determined by the forces of supply and demand, and income is an important determinant of demand. Therefore, when the incomes around you go up, the demand for at least some items that you buy is going to increase, and increased demand leads to higher prices (or shortages). Put more simply, having a bunch of wealthy people around you is going to make stuff you buy more expensive than it would be otherwise. In this way, relative income matters even if people don't care about status for the sake of status. The down side of being richer than your neighbors is that you might not be able to find the high end goods that you would like to buy (at least not in person), unless you are buying enough Gucci purses and Jimmy Choo shoes to support the entire local market by yourself. And if that is the case, I think I might want to be your friend… 🙂