I figured, since you liked the last post so much, I would give you another one on marriage. What I had neglected to take into account with the last post is that two very dear friends of mine got married last weekend, so I am currently working on digging my way out of a literary hole. As such, I am trying to come up with a creative way to use this comic as a peace offering/wedding gift: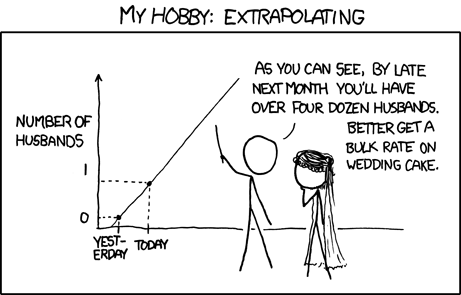 My friends are pretty nerdy, so a number of them pointed out the timeliness of the comic as related to our friends' wedding. Apparently even Ezra Klein over at washingtonpost.com had something to say about it, via Twitter:
OMG, I can think of SO MANY blog uses for this comic! http://xkcd.com/605/
(Sidenote: I am amused that, when taken out of the Twitter context, the above seems to have been written by a 12 year old girl.) I am curious as to what Ezra thinks all of the blog uses are, since I'm only exploiting one of them here.
Extrapolation is a funny thing. From Wikipedia:
"In mathematics, extrapolation is the process of constructing new data points outside a discrete set of known data points. It is similar to the process of interpolation, which constructs new points between known points, but the results of extrapolations are often less meaningful, and are subject to greater uncertainty. It may also mean extension of a method, assuming similar methods will be applicable. Extrapolation may also apply to human experience to project, extend, or expand known experience into an area not known or previously experienced so as to arrive at a (usually conjectural) knowledge of the unknown [1] (e.g. a driver extrapolates road conditions beyond his sight while driving)."
Let me rephrase in normal human terms. "We collected some data. We used this data to find a supposed relationship between A and B. We will now assume that the world stays the same as it was when we collected this data and tell you what a new B will be tomorrow given what a new A is."
Put this way, and illustrated by the absurdity of the comic, it's clearly foolish to put a lot of blind faith in a statistic reached via extrapolation. (Note also that extrapolation is not so far removed from what people refer to as learning by induction, which loosely translates to "I watched something happen a certain way a whole bunch of times, so I conclude that that something will continue to happen in that way.") But we get fooled easily, since sometimes extrapolation/learning by induction seems to work nicely for us. Some examples:
The sun rose in the east yesterday and every day before, so I conclude that the sun will rise in the east tomorrow.
I observe that the bank is willing to trade me two dimes and a nickel for a quarter, so I conclude that the bank will be willing to trade me two hundred dimes and one hundred nickels for one hundred quarters. (Not sure why one wouldn't want the hundred quarters, since they could feed a lot of parking meters.)
I've observed a whole bunch of swans, and those swans are all white. I conclude that all swans are white.
Hey, wait…what was that last one again? Doesn't some smart-sounding dude have a book called The Black Swan
? How is this reasonable if all swans are white?
Actually, that's the whole point, both of the book and of the comic…and of me, I suppose. Extrapolation and learning by induction can be valuable tools in order to try to predict future (or merely out of sample) behavior, and sometimes they are the only tools available. However, the results should be looked at critically in an effort to understand what implicit assumptions are being made in order to arrive at the stated number. Once the assumptions are outlined, debate can begin on how reasonable the assumptions are.
As an economist, I tend to get a bit defensive on this issue. People like to gloat nowadays about how all of these economic models that describe financial markets have been shown to be "wrong." Let's be clear- wrong would be what they would be if there was a math error somewhere. The actual problem was that the models (and the economists behind them) made assumptions about the world that turned out to not be accurate, so a better word for the models would be, oh I don't know, inapplicable. While you can blame economists for not having a thorough enough understanding of human behavior (a shortcoming that I am working to correct thank you very much), you can't (or shouldn't) blame them for not having a well-functioning crystal ball, and it's important to recognize the difference.
So lay off, okay? =P Even Alan Greenspan admitted he was wrong, sort of:
Congressman Henry Waxman: "My question is simple. Were you wrong?"
Greenspan: "Partially … I made a mistake in presuming that the self-interest of organisations, specifically banks, is such that they were best capable of protecting shareholders and equity in the firms … I discovered a flaw in the model that I perceived is the critical functioning structure that defines how the world works. I had been going for 40 years with considerable evidence that it was working exceptionally well. The overall view I take of regulation is, I took an oath of office when I became Federal Reserve chairman. I'm here to uphold the laws of the land passed by Congress, not my own predilections."
Given that, you should find the following pretty funny/sad…from an old post of mine, dated September 18, 2007:
"Even Alan Greenspan is jumping on the behavioral bandwagon! Apparently he too concedes that human beings are more complex (and presumably less focused on pure self-interest) than Adam Smith professed, and he asserts that an understanding of human nature is crucial to developing suitable models of the economy. I certainly agree."
*sigh*…