Why do all of my titles sound like they are the the beginnings of bad jokes?
Those of you that are my Facebook friends might have seen this from me already, but I wanted to add another xkcd comic here because I think it makes a very good point: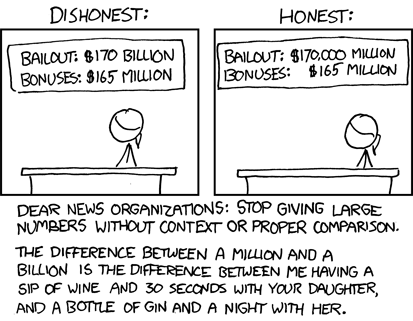 I am in general torn on how upset to get regarding the AIG bonus mess. On one hand, $165 million is a lot of money. On the other hand, the $165 million represents roughly 0.1% of the entire AIG bailout, so taken that way it seems like barely a drop in the bucket. On a third hand (economists have lots of hands), the government specifically allowed this to happen, so why the hell not? It's kind of like the time when I was 2 and my mom tried to teach me the difference between "can" and "may": "Well, you CAN put those raisins up your nose, but you MAY not." Is anyone surprised that a trip to the hospital followed this statement? I didn't think so. I'm not exactly sure when the federal government decided to adopt the jewish mother approach to legislation ("Well, we aren't going to force you in any particular direction, but we know you'll do the right thing…because if nothing else you won't want to endure the endless guilt we are going to pile on you otherwise…"), but it doesn't seem to be working too well. So far, AIG employees have agreed to give back about $50 million in bonuses, which is still less than one-third of the overall amount. I'm not sure what I would do in this situation- I would already feel like a big douchebag for running a large company into the ground, so in a sense I might as well feel like a big douchebag sitting on a big pile of money.
That said, I also can't decide how to feel about the media coverage of this whole bonus uproar. Again with the hands…I want to think that the media is acting as a good watchdog and calling these guys out on what seem like unethical choices ("muckraking" if you will), but a big part of me thinks instead that the media is more than happy to stir up contoroversy in order to sell papers…or whatever media it is that they are trying to sell nowadays. The way that a lot of the facts are being reported, as pointed out in the above cartoon, leads me to believe that the latter explanation is the primary one in play.
For those of you that are curious as to the ways in which the media can distort the facts through the way that they choose to report numbers, there is a great book called A Mathematician Reads the Newspaper
. The amazon.com description is as follows:
"In this book the author of Innumeracy : Mathematical Illiteracy and Its Consequences reveals the hidden mathematical angles in countless media stories. His real life perspective on the statistics we rely on and how they can mislead is for anyone interested in gaining a more accurate view of their world. The book is written with a humorous and knowledgeable style that makes it great reading."
Perhaps the author should consider an updated 2nd edition…